The Hall of Fame Proudly Presents
The Women in Industry Award
The United States Ski and Snowboard Hall of Fame presents The Women In Industry Award annually to a pioneer of the snow sports industry for outstanding contribution by a Woman through innovation, design, functionality and presentation.
The perpetual trophy is showcased in the "Women of Snowsport" area at the Hall of Fame museum in Ishpeming, MI. This is an award endorsed by the USSHOF and current inductees are NOT eligible. There are so many unique, creative and impressive women in the ski industry that truly deserve this recognition.
ABOUT THE AWARD: This award, given annually, provides recognition to the outstanding women whose lifetime contributions have shaped our sports in the US. The recipient of this award is a pioneer of the industry who has made an extraordinary impact through innovation, product design & functionality, fashion, marketing or any area within the industry.
Women recipients of this award ultimately have contributed to the growth and health of our industry. Their efforts deserve ample recognition and this award will be a great platform to do just that.
Congratulations to the champion of helping those in need
2nd Annual US Ski an Snowboard Hall of Fame
Women In Industry Award winner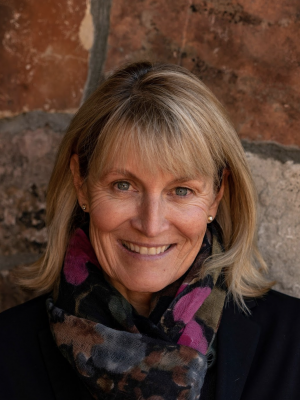 Cheryl Jensen has been able to figure out how to utilized the lure of the mountains and the appeal of skiing and snowboarding to help others overcome personal tragedies. With the generosity of resorts and gear and equipment suppliers, Cheryl has created something truly inspiring and life-changing for those in need.
In 2003 after a meeting at the Pentagon, Cheryl discovered that there was an opportunity to use the healing powers of the mountains to assist severely injured combat Veterans. She went to work and soon the Vail Veterans Program would begin flying Veterans from Walter Reed Army Medical Center in Washington D.C. to Vail Colorado. From there, the program taught Veterans to ski and snowboard through the adaptive ski school so that they could enjoy the healing powers of the Rocky Mountains all expenses paid.
One Veteran stated, "I am not sure why you did all this for me Cheryl, but you CHANGED my life"! That young man who lost both legs in Iraq went on to compete in the Vancouver and Sochi Olympics. Successes like this encouraged Cheryl to expand the program and it is still growing today.
THANK YOU, Cheryl, for your lifetime dedication to our sport. Amongst countless other efforts, your generosity, persistance and efforts with The Vail Veterans program makes you a perfect fit for this award!
The 2020 Women in Industry award will be presented at a special Snowsport History Celebration® event during the Hall of Fame Sun Valley Welcome Celebration at Dollar Mountain on March 27th, 2020 at 5:45pm. The presentation will be preceded by a vintage ski fashion show and freestyle skiing ballet demonstration. Doors at 3:30pm!
Please submit $50 with your nomination form for it to be considered.
Download Nomination Documents:
Mail completed nomination form to:
U.S. Ski & Snowboard Hall of Fame
P.O. Box 191
Ishpeming, MI 49849
or email to: [email protected]
Thank you for your passionate support. If you would like to nominate someone for this award, you can find the nomination forms & instructions above. Nominations are due by June 1 each year. The committee to select the annual award winner is comprised of media, regional historians, industry advocates and previous award winners.